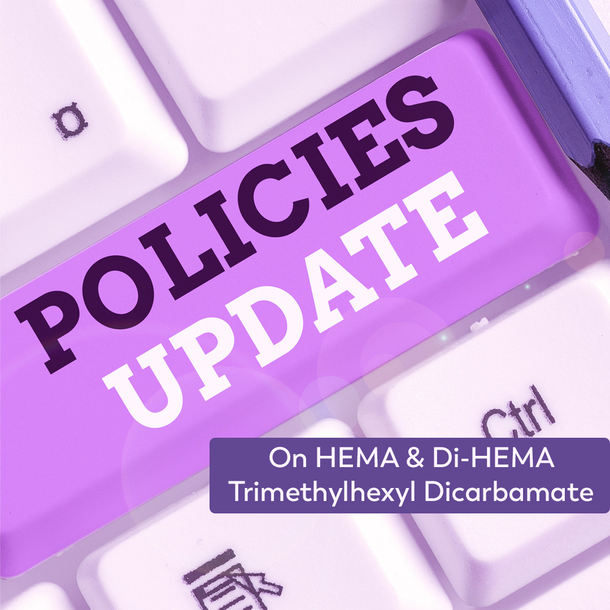 Changes in the Cosmetic Regulations
Updates in Commission Regulation (EU) 2020/1682, of November 12, 2020, will restrict HEMA and Di-HEMA TMHDC in cosmetic products (under Annex III of (EC) 1223/2009).
The regulation will become effective on December 2, 2020, the 20th day following its publication.
From June 3, 2021, products containing these substances and not complying with those conditions shall not be placed on the Union market.
From September 3, 2021, products containing that substance and not complying with those conditions shall not be made available on the Union market.
These changes include:
Wording of conditions of use and warnings: For professional use only. Can cause an allergic reaction.
Should you avoid HEMA?
(Ref: Safety and Efficacy of Nail Products , 2017, authors H. Arora and A. Tosti)
A retrospective study reviewed 87 patients who worked as nail cosmetologists and found that 47.1% of these patients reacted to at least one methacrylate, with the most common being 2-HEMA, 2-HPMA, and HEA [58]. Furthermore, in studying 55 females with exposure to artificial nails as consumers and in the workplace, Lazarov described that distant sites such as the forearms,the dorsal hands and fingers, and the face and neck, were more often involved in occupational ACD.Women with occupational exposure also tended to have more chronic dermatitis, although lichenified and psoriasi form dermatitis were also identified [52]. The distribution of eczematous lesions wasechoed by DeKoven et al., however periorbital, facial, neck, lower extremity, and dorsal foot eruptions were found to be significantly less common than eczema of the dorsal hands, fingers, and forearms [59].
The most common allergens identified were 2-HEMA and 2-HPMA with over one-fourth of the patients also positively reacting to ethyl cyanoacrylate in the artificial nail glue [52]. Worsening of pre-existing asthma, new-onset asthma, and rhinitis [50] in nail technicians has also been observed. Two women who were sensitized to methacrylate monomers, both developed cough, rhinitis, wheezing, and shortness of breath, especially during exposure to sculptured nails at work.
Is HEMA Safe?
In short, yes. HEMA is a widely used form of Acrylates in the nail industry and is considered to be safe by the SCCS (EU Scientific Committee on Consumer Safety) in concentrations of up to 35% and 99% respectively when used in topically applied UV-cured artificial nail modelling systems and applied correctly to the nail plate only and avoiding all contact with adjacent skin. (Ref: SCCS/1592/17 Published 2018).
Although, there is much speculation in the nail industry today regarding the reasons behind the wide spread of contact dermatitis and other nail health issues many years of independent research* concerned with the issues of Health and Safety of dominant users as well as allergy patch testing by medical personnel clearly demonstrate that for nail enhancement products to be safe there are 3 crucial steps to follow:
Products must be formulated to avoid sensitivity
Products must be applied according to manufacturers guidelines
Products must be restricted for professional use only ( individuals which are trained in application of these products and are educated in the Health and Safety measures when working with chemicals)
Why Gellifique® UV/LED curable gel system is HEMA Free?
We strive to offer an alternative system to clients suffering from existing allergies to the above mentioned substances. Our products are formulated to avoid sensitivities yet deliver all the properties of a high quality UV/LED curable gel system. We feel our customers benefit from a win - win combination.