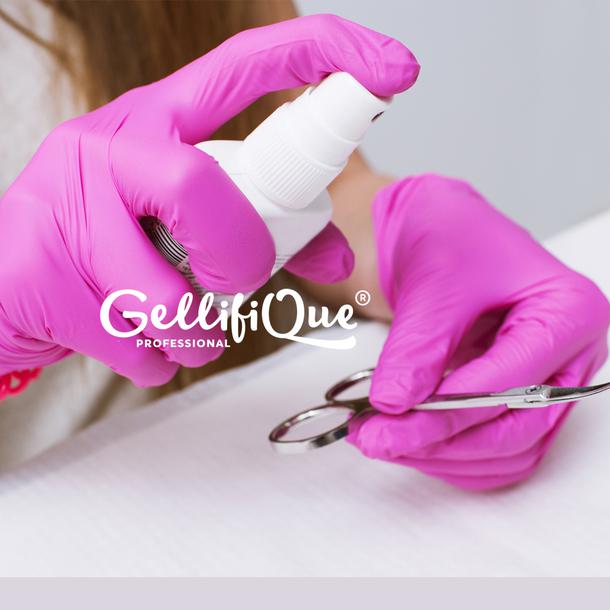 The topic of hygiene in the workplace is more than ever relevant this year and not only due to the global pandemic but due to the significant changes in the UK Nail Industry in the recent years.
We strongly advise you to direct your attention to the current standard of nail preparation and the prevailing method of product removal in the industry today. Have you noticed the difference and how this may affect your day to day practices?
We believe the changes in product application and removal within the UK nail sector will soon propel a number of changes to the legal code of practice for hygiene in manicure salons just as it has been done in other European countries such as Switzerland for example.
---
The Gellifique® corporate goal has always been the maintenance of quality control and the wellbeing of our customers. To accomplish this goal and offer professional grade products at fair market value we focus on manufacturing , sourcing and formation of professional partnerships with suppliers across the world.
Today let's look into a serious issue and why you should make it a priority to learn more about the subject of Sterilisation vs Disinfection of the everyday tools you apply in a professional setting.
---
WHAT IS H.A.B.I.A.
Habia stands for Hairdressing and Beauty Industry Authority and is the government-approved standards setting body for hair, beauty, nails, spa therapy, barbering and Afro hairdressing.
---
CURRENT UK PRACTICE CODE ON STERILISATION 2007
As outlined by HABIA:
"Sterilisation is a process which completely destroys all living organisms, including spores, most commonly by use of an autoclave. Sterilisation may only be performed on metal implements and is unnecessary for nail services unless the nails are infected or the skin has been cut or pierced, which is when the risk of cross - infection is at its highest. Using single - use disposable equipment and sterilising equipment or both will significantly reduce the risk. Further information on sterilisation and disinfection is available on the Habia website under Downloads, including specifications for autoclaves and sterilising fluids".
---
APPLYING THE ABOVE IN 2021
How many of you are using tools which cut and trim the non living cuticle area? How many of your clients have grazes and minor cuts on their cuticles upon arrival or departure out of the salon? Do you commonly use an e file to remove product and/ or prep the nails?
It can therefore be concluded that when aligning the standard practices in the industry today and the practices for disinfection of tools that were set up in 2007 the latter are very outdated.
---
THE HEALTH & SAFETY STUDY (HSE) 2008
Let's take a look at the findings in a study/ survey carried out by the UK HSE body in 2008, which perfectly demonstrate the changes in the UK nail sector in 2021 .
Most technicians used non-metal files and buffers, and metal scissors, nail clippers and orange sticks and these were usually reused with more than one client. The most common way of cleaning these tools was with use of sanitising fluid/spray. Operators often referred to this method of decontamination as "sterilisation", although it is actually a method of sanitisation for hard (non porous) surfaces or skin
Very few of the technicians interviewed (8/68 [11.8%]) used electric files or drills and all of them reused them with more than one client. The most common way of cleaning electric files or drills was by sterilisation using fluid/spray (4/8 [50.0%])
A similar response was found when technicians were asked what they would do if clients had infection around artificial nails. Almost all (87.8% [43/49]) said that they would remove the artificial nail extension and recommend that the client saw their GP. 2% (4/8) of technicians said they wouldn't treat the client but would recommend that they saw their GP.
Most of the technicians (85.9%) reported that if the nail treatment caused the client's hands to bleed then they would stop the bleed, then clean and cover it with a sterile dressing/plaster. Generally, they would then either sterilise or disinfect the tool they had been using (66.2% [47/71])
---
WHY IS STERILISATION IMPORTANT
Sanitising reusable equipment with wipes, sprays and other liquids is only a part of the disinfection process in a professional setting with reusable tools.
Sterilisation by using an autoclave as part of the disinfection process is the only way to safeguard your clients and yourself by removing all bacterial spores from your everyday tools.
---
THE DANGERS
Hepatitis B and C Virus, Human Papilomavirus (HPV), HIV Virus, Fungal infections and many more dangerous viruses and bacteria can be transmitted in a professional beauty salon setting without the full disinfection process (which has quite a few steps involved).
---
CONCLUSION
As beauty industry professionals we are unable to determine the medical history and conditions of our clients nor which type of experiences they have had in other salons prior to visiting your own premises.
Thus, the responsible conclusion to be made is that if a professional grade tool can not be professionally sterilised it is therefore, not a professional tool!
---
WHY SOME TOOLS CAN NOT BE STERILISED
There are two types of reasons for tools not being able to withhold an autoclave sterilisation. The first one is the aesthetics issue which can result in the chipping or shedding of the colour coating of the tools. The second is damage to the tools when exposed to high heat, most commonly due to the tools not being made out of medical grade steel.
---
INVEST INTO THE RIGHT PRODUCTS
We highly recommend purchasing reasonably priced medical grade steel manicure tools (cuticle pushers, cuticle nippers etc) which can be sterilised in an autoclave and instead investing in a high quality autoclave that will put your mind at ease and keep you and your customers safe.
Rules and Regulations are constantly changing particularly when the need for it is there (regulations on HEMA being a perfect example) so its always best to be prepared.
Learn more about the Gellifique® choice of manicure tools by visiting our website.
REFERENCES
HSE Study "Health and Safety in nail bars" January 2008] ( https://www.researchgate.net/publication/274700560_Health_and_safety_in_nail_bars)
Habia Code of Practice for Nail Services]